5 Reasons Why this is the Best Time to Buy a Home?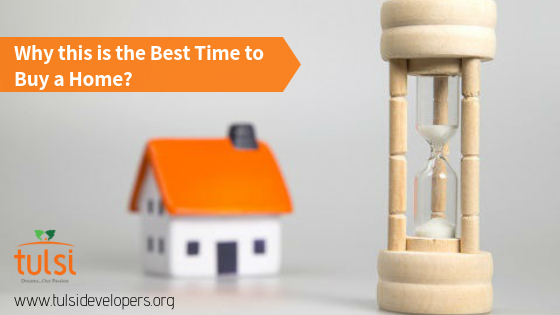 Buying a home is likely to be one of the biggest investments in your life. 2017 was the best year to buy houses and have loans for housing. 2018 is set to be the same since it will alleviate the financial burden of paying more for a home. Having a home of their own these days is everyone's dream. Some of still have dreamed of that but should never do because of financial restrictions or eligibility for a mortgage loan, others cannot do it even if they have the required affordability.
If you are not sure you are ready to become a home buyer, or if you are interested in exploring what time is the most advantageous to buy a home, here's a list of reasons why this is the best time to buying a home.
Interest Rates Are More Affordable
The main reason attributed to the decline is poor demand. Now that property prices have gone down, if you plan to buy a home with a mortgage loan, this is the best time. It's because even banks and leading non-banking finance companies have reduced their Home Loan interest rates which is just 8.40%. For people from low and middle-income groups, the government has started Pradhan Mantri Awas Yojana, where it allows people to buy houses at subsidized rates. Banks are now following MCLR (marginal cost of lending rate) system of interest rate calculation because of which the bank will charge the minimum applicable interest rate.
Rent Is Getting Expensive Day by Day
Rental rates are reaching such notorious margins these days that people cannot stop complaining about that. If you are buying a property that you plan to rent, you can benefit from your investment as soon as you find tenants.
Get Plenty of Tax Benefits
The tax department of India offers many tax benefits for home loans, which all owners can take advantage of. However, times have changed and real estate prices have been reduced all over India in 2018, and the trend will also continue in 2019. This has happened due to demonetization, the tax on goods and services (GST) and after the implementation of the Real Estate Regulation Law. And if you are a first-time homebuyer, you can claim an additional tax deduction of up to Rs.50,000 per financial year under section 80EE of the Act, provided you fulfill certain conditions. (For More: https://bit.ly/2JPGNh7 )
Good Support from Government
The government has launched "Pradhan Mantri Awas Yojana" for the home loan applicants belonging to lower tax bracket. According to this scheme, people earning between or up to Rs. 3 lakh (EWS) and Rs. 6 lakhs, basically the Lower income group and Middle-income group can avail a subsidy on their home loan of up to Rs 2 lakh.
Festive Schemes Available
For instance, several builders are offering a variety of deals to attract prospective buyers. Numerous Festive Schemes are available in form of 1 Year Maintenance Free, No Interest on Loan, Buy Back of Property, Free Car Parking, Free Club & Community Membership, Free External Electrification, Free Power Backup Installation, and Free Legal & Association Charges.  You may want to buy a property now, as there are chances of getting a good deal on Resale Price.
So, scheduling the right of investment will mean that you will get a house at a price lower than the prevailing market value. By considering your personal financial situation, your plans for the future and the state of the real estate market, you can make a well-informed decision about whether now is the right time to buy. If you are looking to buy a home or you want to invest for future visit: www.tulsidevelopers.org