Amenities to Have in Your Dream Home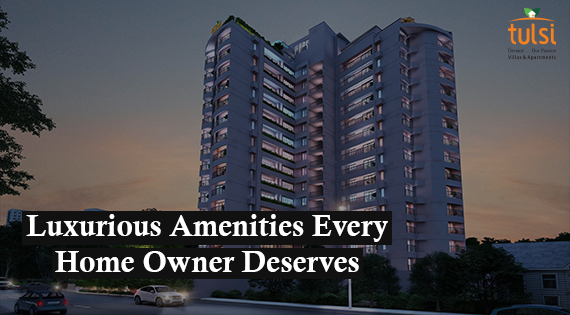 Luxury Flat in Kochi, Tulsi Capitol Pointe, Vyttila
Buying your dream home is definitely one of the most universal goals in society. A dream home should not only be your safe haven but should also be equipped with comforts and conveniences designed to provide the best of quality living. When you are planning your modern custom home, there are a number of elements that you can incorporate to add style and comfort. Luxury buyers are looking for that unique feature and special touch that sets a home apart from all the rest.
The word luxury brings to mind plenty of conveniences such as, pools, saunas, in-home gyms, backyard tennis courts, game rooms, and fully-stocked kitchens? But what are the items that luxury home buyers want the most?  What is a luxury homebuyer looking for when shopping for their new abode?
Whether you're looking for a plush high-rise apartments or gated community in Kochi no premier home is complete without certain features. Here's what to look for when buying prime real estate.
Innovation
Chances are you're a savvy technology user, so you'll want the best tech possible in your dream home. Your luxury residence would not be complete without a spacious entertainment area for your home theater system, and latest flat screen television. How about smart home technology? Luxury buyers want the latest technology and features integrated into their homes ones that can make their lives easier, more convenient, and more affordable. This includes things like smart thermostats, smart locks, and phone-activated tools that allow owners to adjust their lights, turn on or off security systems, and even play music in their home all from their phone.
Energy Efficiency
Having eco-friendly features like tinted windows, LED lighting, and even solar panels can help cut down on utility costs, saving buyers tons of money in the long run — especially on expansive properties. As an added bonus, it also allows the buyer to cut down on their energy usage and carbon output, something that might be important if they're particularly environmentally concerned. Many apartments today are equipped with eco-friendly and sustainable practices like eco-friendly waste management, solar power, rain water harvesting etc. We Tulsi Developers also providing ecofriendly features to some of our luxury projects in kochi.
Fitness Room / Home Gym
Your health is just as important as your dream home, so don't let it slip through the cracks. Nothing speaks luxury quite like having your own private gym. Including a paved jogging trail around the perimeter of the property can be a great way to work out at home and enjoy the fresh air during your run. Choose Tulsi Developers Villas or Apartments that offers fitness facilities that meet your interests and needs
Pool and Sporting Facilities
Life is boring without play. Going for a quick match of table tennis after work or drifting in the skating rink can do miracles to rejuvenate your mind. Wealthy homeowners are taking this trend even further with amenities such as indoor basketball courts, indoor pools, and lavish sports bars. Outdoor provisions include a cricket pitch, basketball court, badminton court, and football ground. A hobby room or an amphitheater is ideal for a few hours of true joy.
At Tulsi Capitol Pointe, you have excellent outdoor space that is beautifully landscaped with amazing amenities to enjoy as well. In addition to spacious and private terraces and balconies, there are on site infinity pools with spectacular views will never tire of.  Tulsi Developers providing pool and sporting facilities to all our luxury and premium projects in kochi. Get a workout; relieve the stress.
Party Area
Most of the luxury residential projects today provide exclusive rooftop party areas, pool party areas, landscaped rooftop garden etc. for merriments and gatherings. Find a property that eliminates the need to book a party hall every time a celebration comes up with your own world-class party hall in your compound. Visit Tulsi Developers now and find your dream home right at the heart of the well-established city of Kochi.
Children's Play Area
Families with children must be on the hunt for amenities like play areas, sandpit area, kids' swimming pool, etc. in the Apartments and gated community.  Tulsi Developers luxury home must be complemented by a host of luxurious lifestyle amenities like Tot lot, Jacuzzi pool and exclusive play areas for your children and other fitness amenities.
Landscaping
No luxury home is complete without a fair dose of impeccable landscaping. A landscaped garden, complete with water features, is ideal when hosting special events.
Elevator
A personal elevator that open to the foyer of an opulent home is one of the most popular features of a luxury property. Elevators are now a must have in all kind of luxury properties, an apartment, a penthouse or a mansion.
High-End Home Safety
The security and safety of a gated community is a priority. In an effort to boost security, many villas and apartments come with installed technology that ensures safety such as CCTV cameras, Biometric entry. Video door phone and electric fences. Other considerations include fire extinguishers, fire safety mechanisms etc.
Today's modern living combines flair and simplicity. By incorporating these design trends, you can improve your home's value, entertain your guests in style, and enjoy your space to the fullest. Tulsi Developers believe in healthy relationships and commutable life. We try to envision the joy of being home in every project. All our luxury project equipped with most-modern amenities and world-class features to facilitate an impeccable urban lifestyle in the heart of the city.
Get more details on our Luxury Villa in Cochin project Capitol Pointe click here
Gallery