Are You Looking For A Ready To Occupy Flat/Villa In Kochi?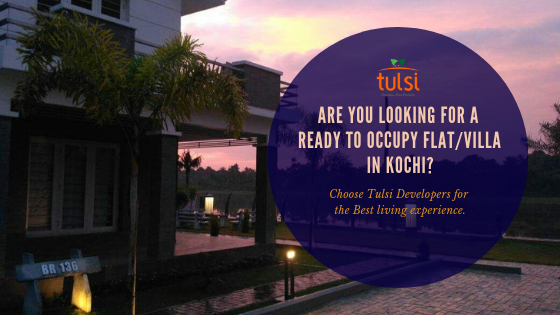 Finding flats in Kochi can prove to be quite difficult if you do not know how to choose the best builders in Cochin to suggest you the new luxury flats in Cochin. Tulsi Developers is one of the best and most reputed Builders in Kochi, they Offer a comprehensive portfolio of Luxury Flats, Villas & Apartments in Cochin. The speedy quality construction and affordable rates made Tulsi Developers one of the most favorable builders in a short span of time.
Would you prefer ready to occupy flats or villas? Generally, people tend to be confused whether to buy a ready to occupy flats or prelaunch ones. Prelaunch properties might take a longer time for completion than expected. This can cause lots of difficulties and frustration to the buyer. Similarly, there is no guarantee that whatever promised would be delivered. This is the reason why you should consider investing on ready to occupy flats or villas. Opting for ready to occupy villas in Kochi can give some tax benefits when you take home loans and ready-to-move apartments will have no GST but the developer will only get input credits on construction costs. These benefits can help you reduce the expenditure. You can follow your plans and move in on your time in the case of ready to occupy flats. You can be free of the frustrating delays and prolonged waiting to move into the flat you bought.
Tulsi Blu Rain and Tulsi Plus Square is a prestigious project from Tulsi Developers, one of the top builders in Cochin Kerala.  Tulsi Developers aims at providing you complete privacy, ensuring a class part convenience and security. So, if you are looking for a Ready to Occupy Flat or Villa in Kochi that maintains international quality standards, well known for their goodwill and professionalism, go with Tulsi Developers.
Blu Rain Luxurious Waterfront Villas on the banks of the Holy River Periyar: Blu Rain Villas are located in a pristine, natural green belt with close proximity to city, the Kochi Metro station, along the flowing, sparkling waters of the river. For More Visit http://www.tulsidevelopers.org/blurain/
Tulsi Plus Square (Budget Apartments): A complex of 16 apartments at Mundampalam, Kakkanad – a commercial, Government administrative hub of Ernakulam, IT parks and other industrial belts scattered within the reach of minutes drive. For More Visit: http://www.tulsidevelopers.org/project/Tulsi-Plus-Square
Book your apartments or villa in Kochi now.