A Living Space- Is Tripunithura a Good Choice?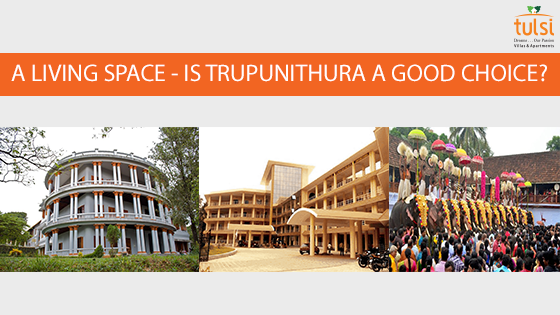 We all have the dream of buying the apartment of our dreams with all modern conveniences. However, when it comes to choosing the right apartment, we always go online to find the one that meets our needs. Having a home of their own is everyone's dream and you spend your whole life investing for it. Investing in flats in tripunithura is yet another option for you.
Tripunithura, its calm quiet place in heart of Kochi and also easily accessible from anywhere in the city. Tripunithura has a main bus-stand in its main center with buses going from and coming into from different locations.  Only 10 minutes travel to Vyttila, it is the busiest as well as one of the largest intersections in Kerala. The town is just 9 kilometres from Ernakulam, and is reachable via bus and train in half an hour. Furthermore, it has bus-stops in almost every part of the town which makes travel by bus easier. Railway transport is also available.
Tripunithura has a lot of Educational institutions which makes the place a good haven for education. The culture and many aspects of the life of a typical person here are intrinsically bound to temples and their surroundings. Many tourists attracted this place because this is a prominent centre of ayurveda. One of the three ayurveda colleges in Kerala is located in Puthiyakavu, near Thripunithura town. An ayurveda hospital is attached to it. Over the last decades, Thripunithura has been on the spotlight for major real estate development. Numerous builders and real estate firms that have pan-India influence have chosen to set up their projects in Tripunithura.
Have Benefits of Tax
Investment real estate also has tax benefits. You can write off your expenses for items such as advertising, insurance, property management fees and more, thus reducing your taxable income. Then, too, if you use the proceeds from the sale of your apartment to buy even more real estate investment, you can defer your capital gains and recover taxes.
Living a Secured Life
When it comes to choosing the best real estate property in Kochi, apartments are probably the best to choose. This is because, there are many advantages of living in an apartment in Tripunithura.  Apartment living gives you the chances of being a part of a great friendly community, with who you can share your fun filled times or even times of distress. Apartments are always a better place to live as they provide the whole security options for the inhabitants with high-end security systems and having gated structures.
Resale Values
Resale values for apartments are high as they are giving out the best options for the buyers. Even the owned property may have good resale value if it's near to one of the progressing areas thus providing another source of income.
In the best case scenario, not only do you get monthly cash flow, but over time, your property gains value with market appreciation.
If you're interested in buying a flat from Tulsi Developers, our executives will be happy to help you in your search for an appropriate lender. Just walk into our office, and tell us what you need.