Kochi Metro: Promising Growth Corridor of Real Estate in Kochi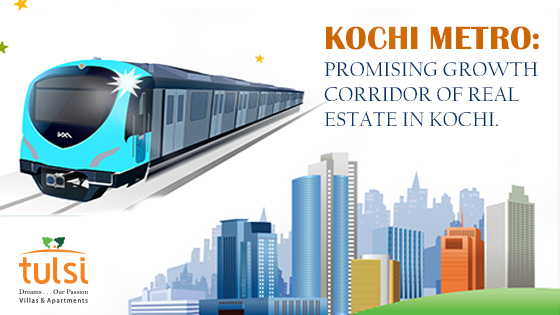 Inaugurated by the Prime Minister of India Mr. Narendra Modi on 2017, the metro in Kochi was built in a record time of just 4 years. The Kochi Metro has raised the brand image of Kochi and boosted major investments, especially in the real estate industry. The metro changed the face of Kochi and made it a more habitable and hospitable city. The proximity to metro has become a major selling point for all the developers and realtors. It is true that owning a property near a metro station has its own benefits in terms of the future appreciation expected out of it.
Developing phases of metro includes plans to extend the line from Jawaharlal Nehru International Stadium to Infopark via Kakkanad and Aluva up to the Cochin International Airport at Nedumbassery and to extent the southern end from SN junction to tripunithura railway station.  According to media reports, Kochiites have started taking interest in residing near Metro stations. Buyers of new apartments in Kochi have solid reasons behind why they prefer to live in the new luxury apartments as compared to typical homes. The Kochi Metro running on both the existing and the proposed route has changed the course of development of Kochi making it one of the most viable spots to invest in real estate in the country.
Tulsi Developers best builder in Kerala, with its vision and future view, has a lot of projects in this regions. They have a vast portfolio of Villas and apartments in Kochi at different scales and in different budget ranges ensuring that there is a home for every home owner who wishes to enjoy the growth that the Kochi Metro brings with it. If you have planning to buy buying a house around the Kochi Metro Tulsi Developers could be the best option for you. You can be assured that it is a safe and secure mode of investment that will enhance your investment exponentially.
All the above factors make residing near Metro stations a prime investment option in Kochi for both investors and buyers. Expert's state that, now would be the right time to invest. If you are looking to buy an affordable apartment in Kochi with luxury amenities Tulsi Developers is the best option to choose your dream home.
What's your Choice?
Tulsi Capitol Pointe– Luxury 3 BHK Apartment in Vyttila,
AREA (SQ.FT): 1616- 1842
STATUS: Nearing Completion
To Proposed Metro Station 800 M
Tulsi Sopanam– Thrippunithura – Kochi
AREA (SQ.FT): 1020-1100
STATUS: Ready to Occupy
Tusli Nest– Edappally, Premium 2 BHK Apartment
AREA (SQ.FT): 890 – 970 sq.ft
To Edappally Metro Station 1 KM
Tulsi Greenfield – Customized Villas, Near Infopark, Kakkanad
Tulsi V-home – Near Deshabhimani Jn., Kaloor
Luxury 2 & 3 BHK Apartments
AREA (SQ.FT): 997 – 1443 sq.ft
To JLN Stadium Metro Station 2 KM
For More Contact
Email: enquiry@tulsidevelopers.org
Phone: +91 9020 300 200
Visit: www.tulsidevelopers.org