Own the Best Eco-Friendly Living Place near Infopark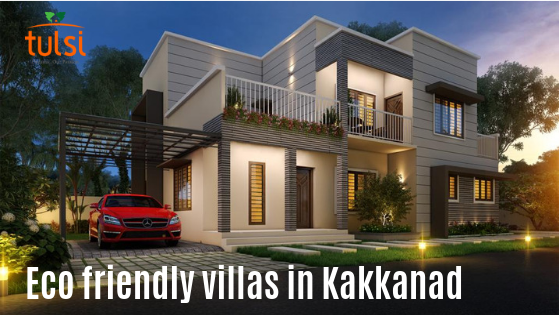 Now day's people have the tendency to move away from the rush of the city to places which offer both spectacular places and easy connectivity. Eco-friendly Villas are the best way that you could blend in with the environment. As we know that mother nature provides the basic protection and clean sustenance so that you could enjoy your home to its fullest. With Tulsi Greenfield live a life that you have dreamed of with its customized villas in kakkanad with all the luxurious amenities to enjoy a good lifestyle.
Have you ever thought of living in a gated villas in Kochi? Most of us prefer to live in a calm, peaceful and secure atmosphere. Villa can offer you many aspects such as security, freedom, privacy, ease of management and an equal sense of community. Along with all these additional features Tulsi Greenfield offers all the premium features of luxury villas in Cochin. It offers 3 and 4 BHK customized villas near infopark in affordable price at a location that is well suited for living with easy connectivity to various parts of Cochin.
We at Tulsi Greenfield aim at developing the perfect living atmosphere where you can feel Pollution free for your perfect family living near Info Park. The Fresh lush green surroundings has made the project location a residential favorite with the tasteful individuals. Blessed with open green spaces and Air-Noise pollution free environment.  Eco-friendly technology is considered throughout – with solar panels for energy, well water facility and Rain water harvesting. Outside surrounded by paddy field beauty is the perfect place to relax and take in the peace and quiet.
These Villas in Kakkanad is encircled by several upcoming and ongoing infrastructural developments like Infopark (3.5 km), Smartcity (4.4 km), GEMS international School (4 km), Kerala's first IMAX Theatre, International Convention Centre, Star Hotels, Metro Terminal, Water metro and multitude of IT companies.
Make your first move, visit our "Tulsi Greenfield" in the best Villas in Kakkanad. Here where you can experience the beauty and quality of living in a most advanced eco-friendly Villas in Kochi.
About Tulsi Greenfield
Tulsi Greenfield Eco friendly villas in Kakkanad, 86 units in the heart of a residential hub and living in one of these villas is a privilege and an opportunity to enjoy excellent location, maximum safety, high standard of life and exquisite style. A cosmopolitan environment with a strong and supportive entrepreneurial ecosystem which supports corporate giants and startups alike is irresistibly attractive. Now stop dreaming about investing in villas near Infopark and own one. Make the right choice. Book your dream home and live a lifestyle of convenience and comfort.
Contact Us
Website: www.tulsidevelopers.org
Phone: +91 9020 300 200
Email: enquiry@tulsidevelopers.org