Tulsi Developers Is Presenting an Exclusive Investment Opportunity for You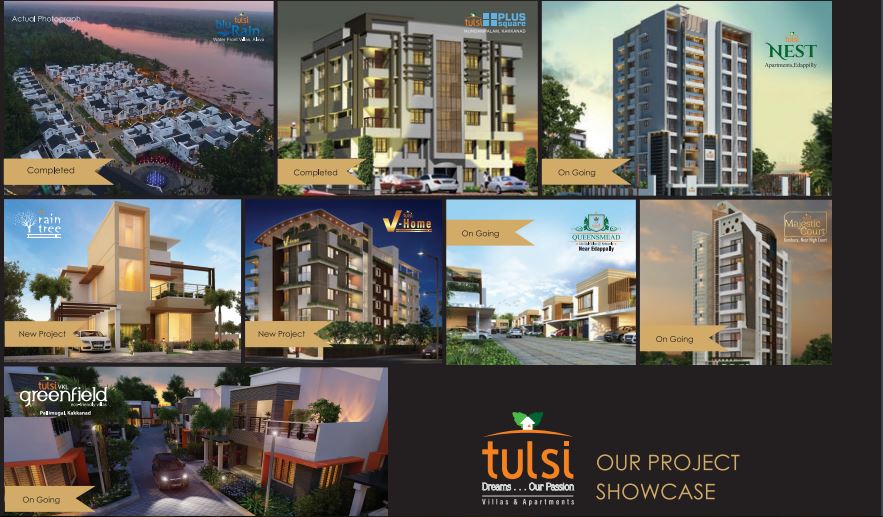 Nowadays people feel more comfortable in apartments or villas than in large bungalows and the reason is their compactness and luxurious stay with all the modern facilities suitable for a happy family.  Kochi is one of the beautiful places to settle down with family or as a bachelor. Compared to other cities, you find Kochi, affordable to live, more accessible and convenient.  Tulsi Developers is one of the best flats in Cochin that stand out at the top position with exotic features and amenities.
Have you ever considered investing in apartment/villas in Kochi? We know you seek high value on your investment. At Tulsi Developers, we give you just that.  The known builders in Kochi offers a wide range of luxury flats, villas and 2, 3&4 BHK apartments in Cochin.  We build custom luxury homes in Kochi with all modern amenities. We have a dedicated team of experienced and highly talented professionals who are committed to bringing your dream to life. Come and feel the extravagance in our luxury flats in Kochi and we are pleased to guide you through.
The globally recognized home builder in Kerala is offering you a wide range of residential apartments and villas in Kochi. We aim at providing you complete privacy, ensuring a class part convenience and security. With over six years of experience in developing sectors, we have projects at the prime locations. Tulsi Plus Square and Blu Rain are the completed project of Tulsi Developers and Capitol Pointe in Vyttila is nearing completion. Tulsi Nest, Tulsi Queensmead, Tulsi Majestic Court and Tulsi Greenfield are the latest ongoing project in Kochi. With that, Tulsi Rain Tree and Tulsi V-Home are the latest projects in Kochi which is launching very soon.
Tulsi Rain Tree at Container Road, Cheranalloor, Edappally (Upcoming Project): The Rain Tree offers 3 & 4 bedroom duplex villas with a wide range of floor plans to suit individual choices of buyers. Located at Cheranallore, a calm area, easily accessible through container terminal road, the villas are just 3 km from LuLu Mall and 15 minutes traffic-free drive to Cochin International Airport.
V-Home Luxurious and Spacious Apartments at Kaloor (New Project): New offering in Kochi's Heart, with luxury apartments offering 2&3 BHK, varying in size from 997 sqft to 1443 sqft. One of the most sought after residential locations, the Desabhimani Road brings the project in close proximity to markets, bus and metro stations, hospitals, schools, colleges, supermarkets and other utilities of life.
Capitol Pointe Air-conditioned Apartments at Vyttila (Nearing Completion): We are proud to present to you CAPITOL POINTE Sky Villas- A final point in your search for that perfect home. With 56 luxury apartments in these two towers, located in the heart of the city, close to the Mobility Hub and other important locations, this would be an investment you would cherish for the rest of your life.
Greenfield Customized Villas at Kakkanad (On Going): Set among the lush greenery and sloping terrain of the region, we offer you a halcyon setting with attractive villas built to your taste. With a non – polluted environment, plenty of groundwater and surrounded by the district administrative hub, InfoPark, commercial centers, educational institutions and much more.
Queensmead Luxury Villas at Varapuzha (On Going): Tulsi Developers bring you a Villa project situated very close to Edappally, yet in the crest of solitude. Places for worship, healthcare centers, educational institutions, shopping malls.
Blu Rain   Water Front Villas at Aluva (Ready to Occupy): Luxurious Waterfront Villas on the banks of the Holy River Periyar" consisting of 43 villas in a gated community, with premium amenities in an exquisite location in Aluva.
Tulsi Majestic Court near High Court, Kochi (On Going): Tulsi Majestic Court, situated near High Court of Kerala, in one of the most central and high-in-demand neighborhoods of Ernakulam, it is a well designed, practical yet premium apartment complex.
TULSI NEST – Built on Excellence Edappally, Ernakulam:  A prestigious location, Edappally – emerging as a commercial hub, the new nerve center of Ernakulam city with the scenic value of a pleasant non-polluted atmosphere.
Tulsi Plus Square (Budget Apartments): A complex of 16 apartments at Mundampalam, Kakkanad – a commercial, Government administrative hub of Ernakulam, IT parks and other industrial belts scattered within the reach of minutes drive.
Visit our website http://www.tulsidevelopers.org or contact our office today for more details…