We Are Proud To Present You Tulsi CAPITOL POINTE- Ultra Luxury Apartments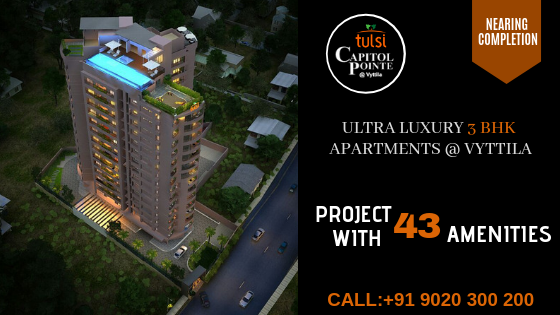 Tulsi Developers, one among the leading builders in Kochi is all set to redefine the city's residential space by offering luxury living spaces in their apartment project Capitol Pointe. From featuring spacious layouts to including premium amenities, the project guarantees high quality living to its finest. One important factor you should consider while you finalize the preferred location is that easy access to working space and places in the city you would like to visit frequently.
Project with 43 amenities… Here are some…
Easy Connectivity
Tulsi Capitol Pointe, 56 luxury apartments located in the heart of the city, close to the Mobility Hub, Well care hospital, Lakeshore Hospital, Ernakulam Medical Centre, medial trust Hospital, gold Souk Grande Shopping Mall, Ernakulam Railway Station and other important locations, this would be an investment you would cherish for the rest of your life. Also offer all conveniences and essential social infrastructure like schools, retail stores, shopping malls etc. in proximity.
Spacious Design
Emphasizing quality and design in each of their premium residential projects, Tulsi Capitol Pointe has been established as one among the most sought after builders of apartments in Kochi. The project includes 56 luxury apartments that boast of a spacious layout spanning an area from 1616-1842 sq ft. In Tulsi Capitol Pointe every apartment is spacious living, giving you ample space and freedom to do all the things you love without any constraints. The ultra-luxury apartment homes also feature balconies bequeathing more fresh air and natural light.
VRF Centralised Air Conditioning
Tulsi Capitol Pointe offering VRF Centralised Air Conditioning Ultra-luxury 3 BHK apartments. Meeting international standards of quality in construction and customer services, the project offers a lifestyle that vies with the best in the world.
No Common Wall Sharing
The projects feature unique layouts designed with the philosophy of no common walls in mind to assure complete privacy and to facilitate a peaceful urban living experience in flats in Kochi. Offering a unique choice of 56 different layouts to select from, the project ensures that one gets his own exclusive living space with absolute privacy, a concept not so common in flats and apartments in Kochi.
Multipurpose Clubhouse
The gated community comes inclusive of a multipurpose clubhouse which includes a health club, party hall, yoga center, children's park and facilities for indoor games to make each and every moment a happening one while living in Tulsi Capitol Pointe.
Infinity Swimming Pool
Tulsi Capitol Pointe promotes an active lifestyle among its inhabitants, kids and adults alike, by including an infinity swimming pool in the project. From water play to swimming laps, exercise will be a fun affair with this.
Children's Play Area
A play area specially designed for children to help impart an active lifestyle at an early stage. This will also influence their overall development, while also teaching them to socialize skills.
Health Club
A multi-functional health club equipped with all the essential modern fitness equipment is present in the project as a dedicated space for fitness enthusiasts to take care of their workout routines. Along with facilitating an impeccable living experience, the Tulsi Capitol Pointe also ensures the health and fitness of its inhabitants.
360 degree Security
When you live in a Tulsi Capitol Pointe Ultra Luxury apartment in Kochi, you are assured of 24/7 security with well-trained security personnel, and security installations. Potential homeowners feel that they will constantly need to guard their home from uninvited break-ins by hiring a reliable security guard, however at developments like Tulsi Developers; security will not be a concern. For complete privacy from external elements, Tulsi gated communities are secured with walls & gates around the perimeter of the desired area.
After Sale Service
This is an on-going and important service which we provide for all buying clients. Tulsi Care can supply an excellent team for your property maintenance who will take care of the gardens and pool every day, provide a cleaning service etc. Our after sales services also ensure that all repairs and maintenance that may be needed for electrical, plumbing fixtures and other finishing items are taken care of.
Tulsi Capitol Pointe, the flagship residential project by Tulsi Developers, the builders of premium flats and apartments in Kochi, is built to accommodate an envious urban lifestyle aided by most-modern amenities and world-class designs. So, prepare yourself for a royal living experience at Tulsi Capitol Pointe.
For More Details
Visit: www.tulsidevelopers.org
Call: +91 9020 300 200
Email: enquiry@tulsidevelopers.org