Why People Buy Luxury Apartments and Villas from Tulsi Developers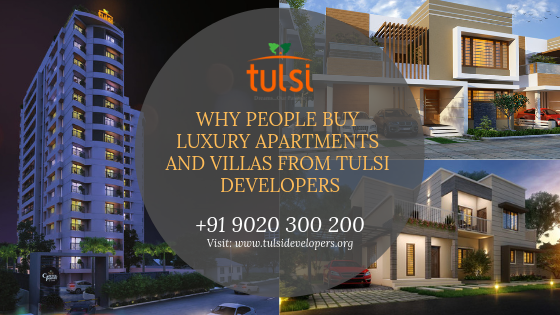 The Tulsi developers are one of the top builders in Kerala. It has so far developed 9 projects in prime locations of Ernakulam District and the builder offers a wide range of luxury apartments, villas and flats for sale in Kochi. At any given time, and regardless of economic conditions, there will always be people who are not happy with any type of home. As a result, the demand for luxury homes in Kochi may increase and decrease but never disappears.
Why do people want to buy properties in Kochi? A large number of people among the new generation of home seekers gravitate towards a luxury apartment in the location of their choice.  As you all know, Kochi is the hub of IT companies in Kerala having fast industrial developments and also it's a comfortable place in Kerala to live with good living standards.
Here are some reasons why people buy luxury Apartments and Villas from Tulsi Developers:
Modern Comforts
Tulsi luxury apartments and villas provide all modern comforts. They come with features like infinity swimming pools, landscaped gardens, gyms, meditation centers, centralized VRF Air conditioning, and electronic security (biometric entry, video door phone), Intercom facility, and entertainment contribute towards making the living experience more comfortable.
360 degree Security
When you live in a luxury villa or apartment, you are assured of 24/7 security with well-trained security personnel, and security installations. Potential homeowners feel that they will constantly need to guard their home from uninvited break-ins by hiring a reliable security guard, however at developments like Tulsi Developers; security will not be a concern. Tulsi Developers Luxury villas and apartments offering 24hrs security with their high-end technology installed.  For complete privacy from external elements, Tulsi gated communities are secured with walls & gates around the perimeter of the desired area.
A Good Investment
Luxury properties generally boost the value in the real estate market; hence, are one of the best options to invest in. The multiplied returns in future have increased the demand for the luxury property. Tulsi Developers Luxury Apartments and Villas are one of the best options for investment. The projects are located in the fast-developing area in the city provide the added benefit of quick appreciation as well as great connectivity to the major hubs of the town.
The Privilege of Privacy
The important thing is that you will get more space and even more privacy in a villa and apartment. Tulsi Luxury Villas and apartments offer a great deal of privacy. There will be facilities like garden, terrace, party area and many more. It is a great choice if you want to enjoy every day.
After Sale Service
This is an on-going and important service which we provide for all buying clients. Tulsi Care can supply an excellent team for your property maintenance who will take care of the gardens and pool every day, provide a cleaning service etc. Our after sales services also ensure that all repairs and maintenance that may be needed for electrical, plumbing fixtures and other finishing items are taken care of.
Quality
We ensure we live up to the quality and safety standards and deliver projects on time, ensuring total customer satisfaction. Tulsi Developers, ever earnest to keep our customers happy, gives 'total quality the highest priority in everything that we do.
Choice of Location
Tulsi Developers brings you a new array of apartments, flats and villas that match your requirements and complements your lifestyle. We have 9 projects in various stages of completion in three of Kochi's prime locations.
Talented Team
Our ability to deliver outstanding results for our clients starts with our team of smart, capable professional experts. Tulsi team will provide excellent customer service, quality, professionalism, human values & culture and timely delivery.
The combination of such benefits and the product from a trusted builder like Tulsi Developers is truly a deal of a lifetime. To get the best of both worlds, you can opt for your dream, like Tulsi Developers, and treat yourself to global amenities and facilities in the comfort of your independent space.  For More Visit: www.tulsidevelopers.org Call: 9020300200