Why You Should Invest In A Second Home?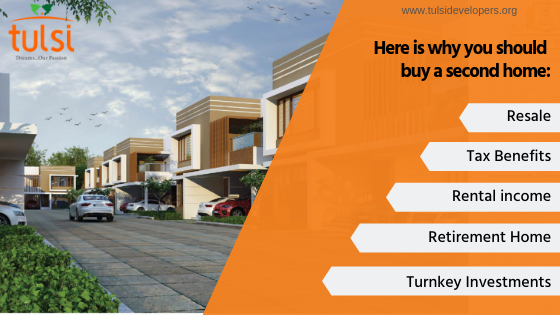 Real estate has always been a safe and risk-free investment option. If you have enough savings, invest in a second home and get good returns in the future. In the last 5 decades, the real estate industry has grown to a large extent. The real estate market in India is stable and very comfortable to invest after RERA has reached the image. If you plan to make new investments, buying a second home may be your best option.
Here is why you should buy a second home:
Rental income
The most obvious benefit of buying a second home before you retire is the promise of a secure rental. Buying a flat or villa in the city is a good investment idea that can generate a decent rental yield as the years go by and can serve as a good source of retirement income.  With soaring real estate prices, rental income has also increased manifold over a period of time. This makes buying a second house to rent out a good option for a stable regular source of income. With RERA and GST entering the scene, investing in second homes for rental income will increasingly become a trend.
Retirement Home
As retirement looms on the horizon, many of us begin to fret about our finances and where to invest to ease our retirement years. A second home is a good investment option if you plan on giving yourself a retirement home. In case you live in a city far from your hometown and want to settle in your native place after retirement, buying a second home in your hometown could be a wise decision. Otherwise, a second home could be a fixed source of income for you after retirement if you put it on rent.
Resale
Even as you think about buying a second home, think about selling it down the road. If it is a long-term investment, you must keep it for at least 10 years. Keep in mind that you should see your financial situation and rental trends in the area before deciding what to do with the property. Also, take your goals into account before deciding to sell the property.
Tax Benefits
Buying a second home also comes with the added incentive of tax savings. If you have taken a loan to buy your second house, you can get tax deductions up to Rs2 Lakh towards the interest paid and a tax deduction up to the amount paid towards interest if the house is let out on rent. This helps you save tax on the loan at the same time, adding a high-value asset.
Turnkey Investments
An emerging trend in real estate, turnkey investments, is tailor-made for those who want to earn a regular income while enjoying their retirement. As part of your retirement planning, you can invest in a property that has been developed and renovated by a developer and lease it to potential clients.
To own a second house, are you adding up to your assets? Buying a second home might not be as difficult as buying the first one. Further, it has a number of benefits in terms of an investment option or getting a regular income via monthly rent. To increase your assets and to create new options for additional income, buying a second house when you have sufficient funds is always a good idea. By investing in a second home, you can rest assured and spend time with family, travel and lead a life of financial independence. You want to buy a second home for investment? Visit: www.tulsidevelopers.org